Do sales people who use social media close more deals?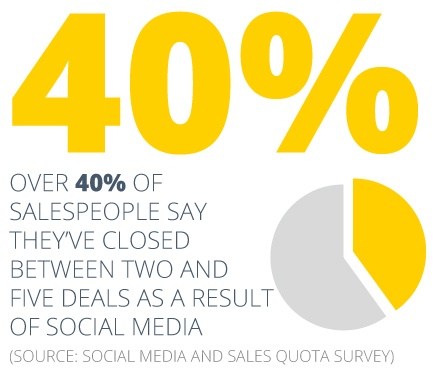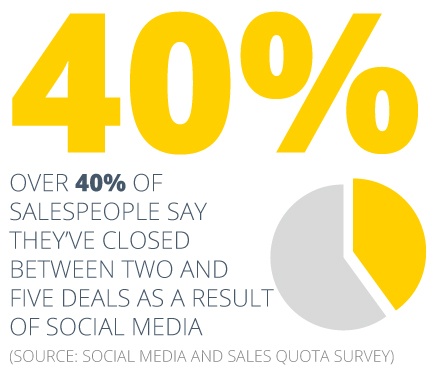 Social media can be a great tool to get your business noticed and to generate leads but it can also help to nurture these leads once potential buyers have been attracted. According to eMarketer's 2015 Social Media Market Industry Report, 66% of marketers said that lead generation was one of the benefits of using social media. Another benefit is that, as a product and service provider, you can remain connected to leads even after closing them as customers. This is essential to the inbound methodology as it means that you can utilise the opportunity to keep delighting customers after their purchase, which can further sales. Statistics from Forbes highlight how being proficient in social media usage is highly beneficial in terms of closing leads, as skilled social media users were 6 times as likely to beat their sales quota by 10%.
Reaching Leads on a Personal Level
Social media platforms give business owners and employees the ability to engage personally with prospective buyers. This helps to build trusting relationships with clients. Marketing Sherpa's data from 2015 shows that 33% of people aged between 18 and 34 prefer to communicate with companies through social media. Having social media profiles that are in line with your company image and ethics also adds to the feeling that what you have to offer customers is a professional yet personal service. Getting to know customers means getting to know their needs. This makes it easier to post or share relevant content that you know your leads will have an interest in. This can open up a dialogue with potential leads and if prospective buyers can be assured that they have an avenue through which to communicate with companies on a personal level, they will be more likely to buy.
The Millennial Marketplace
Millennials tend to support companies that are involved in a good cause, even if another company offers the same service for the same or a lower price. Showing that you support important endeavours through your social media channels will endear customers to you. Figures compiled by Pew Research Center show that 90% of young adults aged 18 to 29 use social media, meaning that it can be a useful marketplace for businesses. The same report showed that women are slightly more likely to use social media than men, though there is not much of a statistical difference. Notably, Millennial women value the opinions of their friends, family and other like-minded individuals when it comes to making informed purchases. This is why social media channels can be useful when it comes to making buying decisions, as they offer people a platform to share experiences and discuss the pros and cons of products and services that they have sampled.
Maintaining your business' presence on social media outlets will keep you at the forefront of people's minds, so that when they need the products or services that you offer, it will be your company that they think of. To find out why social media is important for businesses, check out our blog.