98% of sales reps with 5000+ LinkedIn connections achieve quota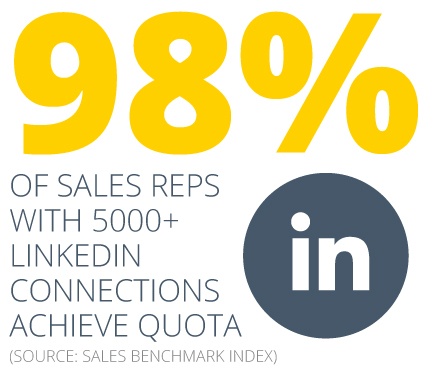 If you're planning on embarking upon the social media route to gain new customers, then it's a good idea to give LinkedIn a go. LinkedIn has proved itself to be the most effective platform to use when generating sales. According to a Hubspot study, LinkedIn is 277% more effective at generating leads than Twitter and Facebook. That's a pretty big incentive to start getting connected on LinkedIn.
While LinkedIn may have started out as a way to connect to businesses and improve job prospects, it has now evolved into a useful tool for spreading content and cementing your services and products as coming from a credible and professional company. Research shows that 80% of all B2B social media leads come from LinkedIn. Because the companies and professionals who already have profiles on LinkedIn have come there for business reasons, B2B companies are more likely to generate meaningful business leads through this channel. LinkedIn is the likely place for potential B2B customers to congregate and it is possible to build up trust in your business through connections with people in the industry. By linking to industry thought leaders, your business can show its expertise and trustworthiness. LinkedIn also offers the opportunity to create groups in order to network with likeminded people and businesses in your field, which is also a great way to generate leads.
Increasing the number of contacts on LinkedIn will widen the scope of your company and bring in more sales but having a LinkedIn profile can also increase the likelihood that customers will find you. 50% of B2B buyers use LinkedIn as a source for making purchase decisions, so when potential customers are researching your products and services, a LinkedIn profile is going to help your chances of being the company for them. You can use LinkedIn to post articles and share information that will interest peers or persuade those interested in your services that you have the required expertise. The point of inbound sales is to allow customers to find you, rather than the other way around. Using LinkedIn contributes towards an effective inbound strategy because it is about networking, not promoting your wares.
With 94% of B2B marketers using it to distribute content, LinkedIn is the most popular social media platform for B2B companies. If you have not already, why not join the rest of the top companies utilising this great tool?