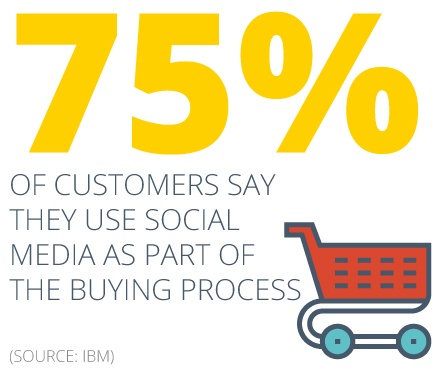 Jumping onto the Platforms
With more and more potential buyers joining social media networks, it is essential that your company has a prominent online presence on the various social media platforms available such as LinkedIn, Google+, Twitter and Facebook. Research commissioned by Dell and published in volume 3 of The Social Business Journal showed that 75% of buyers are influenced in their buying choices by what they find through social media channels. The priority is to find out which social media sites your customers are likely to use, why they are using them and at what point during the buyer's journey they are looking at them.
Reaching Customers, Old and New
Because technology is changing fast, social media marketing should move with the times. Previously used strategies should be assessed to see if they are still working and be constantly improved upon to make sure that potential buyers as well as existing customers are being reached. A strategy used for long-time clients may not necessarily work for new customers. It is also important for marketing produced through social media channels to fit with the branding and look of the overall campaign. In addition to this, all social media campaigns should be compatible with your company's goals and marketing policies.
Covering all the Bases
Social media is vital to B2B marketing because potential customers tend to do a lot of their research online before buying. A 2011 Hubspot study found that 50% of shoppers were spending 75% more of their time researching online as part of their shopping experience. This means that Search Engine Optimisation is important, as you need to ensure that your website appears at the top of the list when potential customers are looking for your products and services. Even if a visitor finds your website, they may then look further into your company, checking any social media accounts that you have, so employing the use of strategic sales campaigns via social media avenues is a must.
Meeting Buyers at Every Step
Social media campaigns should be part of your overall lead generation strategy because leads can be influenced by posts on sites such as Facebook and Twitter at different points during the buyer's journey. According to the study conducted on behalf of Dell, 67% of the buyer's journey is now conducted using digital means. Research was conducted in the 2012 Buyersphere Report, which aimed to discern what platforms are useful at various stages of the consumer process. The report showed that in the awareness stage, blog articles or posts on Facebook can be a good way to inform potential buyers about products and services. During the consideration stage, posts on LinkedIn or Facebook could help potential buyers to decide whether they want to go ahead with a purchase. Twitter and Facebook were shown to be of use in the final stages of the buyer's process, leading to conversion of leads.
Content that Matters
According to the Marketbridge Ultimate Guide to the New Buyer's Journey>, 95% of buyers prefer brands that provide content throughout the buying process. Eccolo Media conducted a survey to find out what social content is appealing to buyers, which showed that case studies and success stories are the most popular type of content for people to consume when they are considering a purchase. Detailed technology guides and white papers came in second, while podcasts and emails came in third.
Because an increasing number of potential buyers are finding companies through social media routes, it is vital that your company taps into this mine of prospective customers.