55% of B2B buyers search for information on social media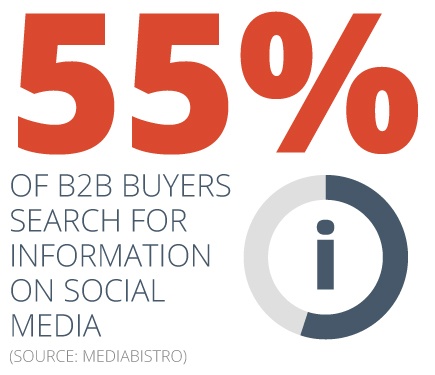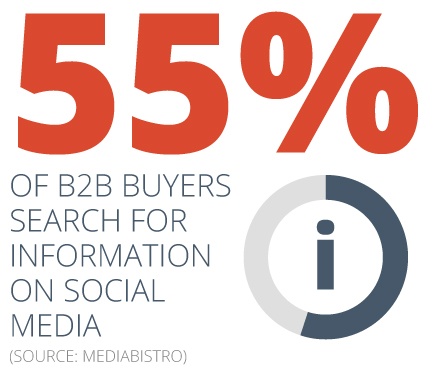 Increasing Visibility
Many people might consider social media as something that helps them to connect with family and friends, however it can also link companies together and drive commerce to your business. When researching solutions, 72% of B2B buyers use social media to find what they are looking for, so if you want to increase your company's visibility and improve engagement with prospects, it's worth utilising social media channels. Potential buyers can learn more about your company and its products and services if you have a social media presence and this can do a lot to convince them to make a purchase. Social media channels allow you to post content about what your company has to offer and even communicate with those who have already given their custom, which is an important factor in delighting clients.
Create a Social Media Strategy
If your business has profiles on social media services such as LinkedIn or Facebook, it is likely to be found by other similar businesses wishing to join networks. However, you need to have a social media strategy outlined for it to be successful and have a real impact on profit. Once you have devoted some time to identifying the ideal customer and the spaces they frequent on the internet, you can utilise social media channels to improve brand awareness, engage with potential leads and turn those leads into clients and meaningful connections that will further improve business links.
Sharing Recommendations
Social media spaces can be a great place for people to share their favourite things and that includes products and services. It is now easy for people using social media to tag companies or share information about products if they are pleased with the custom. Consumers can learn more about products and provide feedback in social media spaces, which could inform the buying choices of others. 71% of consumers are more likely to make a purchase if it has been referred by others on social media. This is important to keep in mind when considering that B2B buyers may use social media to search for information. According to Marketing Profs, use social media as a source for making purchase decisions.
For more information on how to utilise social media, check out our blog post on top tips for B2B social media usage.