74% of B2B marketing companies use twitter to distribute content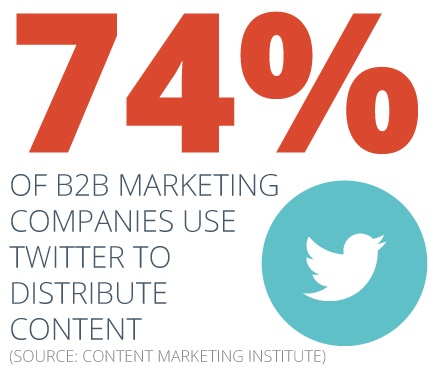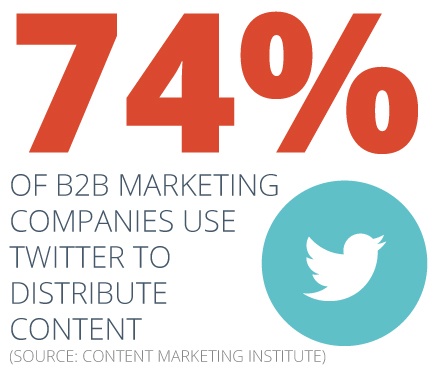 Many marketing companies have taken to using Twitter as a tactic for generating leads, with successful results. In a survey conducted by the Content Marketing Institute, results showed that 87% of B2B companies use Twitter as their social media platform from which to distribute content. This means that Twitter campaigns should form a part of any B2B business' marketing strategy, providing buyer persona research shows that potential customers are regular users of the service.
Present an Image
A Twitter account used for business purposes should be in line with the company's aesthetics, showing clear branding whilst also using the company logo and colours, which will allow customers to recognise the business and link it visually to the website and any other social media accounts. Twitter's format allows users to share videos, pictures, links to articles and short messages of 140 characters or less. This offers businesses an ideal position from which to share content in the networks where ideal customers are likely to congregate. Links to content can be accompanied by specially designed stylised tiles, to attract the reader, and again, present a clear company image.
Conversing with the Customers
Twitter is not limited to only being useful as a means of promoting content. The conversational format offers a great platform for communicating with customers and asking them what they think. As you learn more about your customers, you can nurture leads by tailoring content to their wants and needs. Though broadcasting targeted content that answers customers' queries is useful on Twitter, it is also important to share relevant and current information to keep customers interested and possibly attract new ones. A Marketbridge survey showed that 95% of buyers prefer companies that provide engaging and valuable content. It is important to introduce such content on Twitter with a few well-chosen words to show that your company is knowledgeable upon the subject.
Turning Strangers into Promoters
Once your company's Twitter account has built up a healthy number of subscribers, the scope of your content may well increase. Sharing informative content that is likely to interest ideal buyers can attract followers, which can then be nurtured into promoters who will retweet posts and share your content with a wider audience. The customers can end up bringing others into the sales funnel and this is what makes Twitter a valuable tool in terms of inbound marketing.
Connecting with Industry Thought Leaders
Twitter can enable B2B businesses to widen the reach of content but also allows companies to make connections with impressive contacts. Research conducted by Marketing Profs showed that 92% of B2B buyers use social media to engage with sales industry thought leaders. Forming business partnerships and networking is all a part of the functioning of a successful company and Twitter can aid this.
With B2B marketers who use Twitter generating more leads than those who do not use it, it is worth considering adding Twitter campaigns to your business marketing strategy.